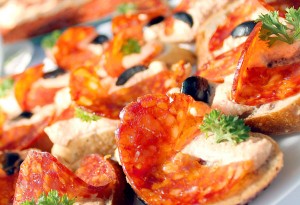 Want to try something different for lunch? Probably something stylish and lavish, or simple but yet beautiful? Well The Grape Vine has a wide variety of delicious dishes to satisfy your appetite at lunch time.
From hot and spicy to sweet and luscious, The Grape Vine produces lunch menus that include their specialties for your enjoyment. Our dishes include the best of nature produce and will excite your taste buds.
Choose us to have a successful meal at lunch for whatever kind of event. Whether you're planning to have it with friends at a small or large formal or informal gathering, The Grape Vine is the place to call.
And if you're on a diet, don't worry. Make us your ultimate catering service to gratify your nourishing needs. Our company caters to all kinds nutritional requirements.
We are committed to serving you with the finest and only the finest. So you can spruce up your lunch hour by calling us and ordering from our variety of cultural lunch dishes.
Count on us to make you have a great lunch!